Are you selling your house and want to increase its curb appeal? Or perhaps its time to clean up a few things and you realize the scope of work is beyond the time you have to invest. Here are the top 5 things to consider when cleaning the outside of your home here in Houston. The first impression of your property plays a role in increasing its value and the decision making process to purchase or not. Let's be honest for a second, if you won't even clean the driveway, then what else in the home won't you maintain? And unlike the inside, where some things can be covered up or hidden, there is no hiding a filthy driveway.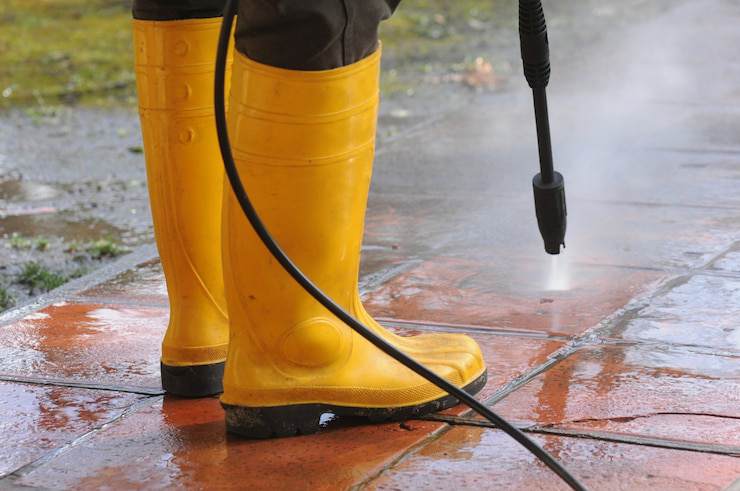 Cleanliness obvious from the curb will attract more buyers to your property. One of the most effective ways to arrive at a clean exterior is to hire a professional to do the work. Cypress Curb Appeal Services can help you with all your house washing, power washing, and window cleaning needs in Houston and the surrounding areas. Top 5 things to consider:
1. Remove The Grime from the Driveway!
Driveways here in Houston are typically concrete. This is a very porous surface that is a perfect home for algae and mildew to thrive. Our process to clean a driveway is quick, effective, and leaves it looking its best right away.
2. Clean the House Front!
Home pressure washing services we offer are soft in nature and damage free. The front of the house is what everyone sees just before they enter. Cleaning away the algae on the window sills, mildew from the paint, and those annoying spider nests, and mud dauber nests is a great way to tell people that you care about your home, without saying a word. If you on a budget, just clean the front. However, take a walk around and look from the street, you might find other areas that need to be addressed too!
3. Clean Windows are Shiny!
Here in America, we tend to like shiny, glossy things. Even if you are a person who doesn't like shiny and glossy, glass is something that by nature is shiny and glossy. Can you clean the windows yourself, sure. Is your time best used doing that or something else? Our professional window cleaning service leaves your windows spot free and looking their best! Don't overlook the insides!
4. Roofs! Clean off the Black Streaks!
If you plan to sell your property and attract more buyers, our home power washing in Houston can help you with a soft wash process for asphalt shingle as well as concrete or clay tile roofs. Even if you don't want to clean the whole roof, cleaning the part you can see from the street will help increase its value. If you plan to take aerial photographs, consider cleaning the entire roof to make your property standout!
5. Backyard Cleaning.. Pool Deck? Fence?
Whether you have the builder grade patio or a large custom pool deck, consider freshening it up. Our power washing services in Houston are specifically designed for the most delicate surfaces to the most durable. We understand and can help with those pesky rust stains from the grille or metal chairs. We can help with the calcium building on pool water lines or water feature spillways. Have a wooden fence? Even if you don't want to stain it, our power washing services in Houston can clean it with a soft washing process that can transform its appearance!
Get the Best, Call Us Today!
If you are looking for highly reviewed, top power washing services, Cypress Curb Appeal Services is your one-stop solution. We provide you with top-notch home power washing in Houston which will boost your home's curb appeal. Our experts will ensure to clean your property thoroughly on your budget and on your timeline.